The pros and cons of using a free website builder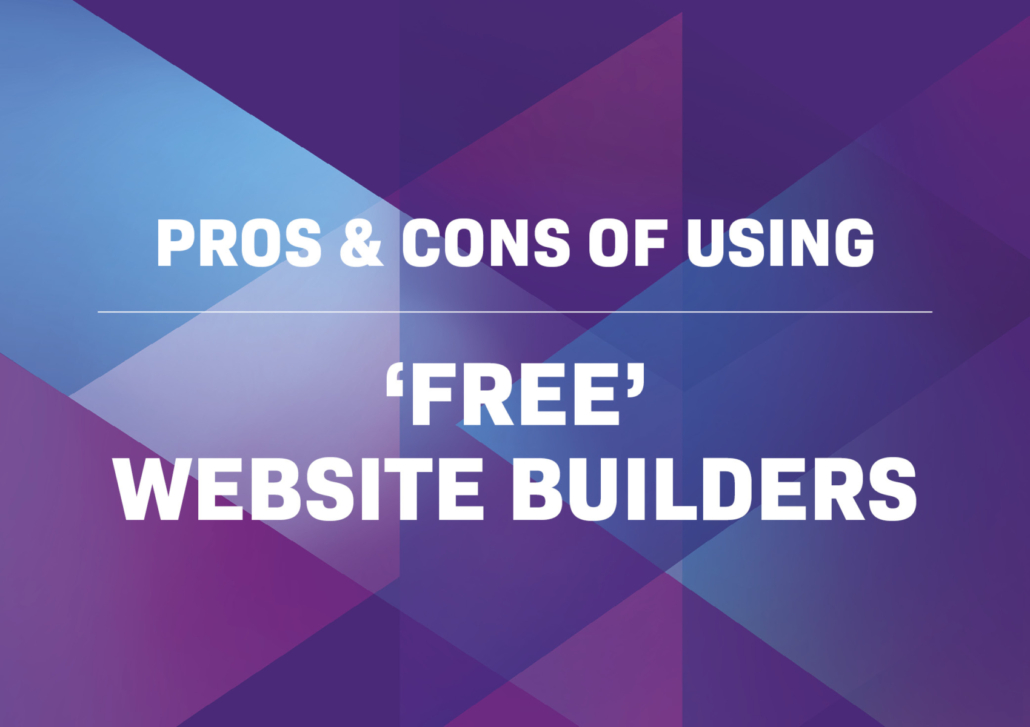 Website builders – what you should know…
Are you thinking of creating your own website using one of the many DIY website builders out there? If so, you'll need to read this, as it may save you from any headaches down the line…
Your head may be swimming with all the different choices out there… so let's get to the nitty gritty of it. It could ultimately save you time, money and stress by doing a little bit of research first, before you go diving headfirst into your web project.
Pros of using a DIY website builder:
SOME plans are free
Different plans & pricing to choose from (simple site to e-commerce options)
Responsive (easy to view on multiple devices) templates
Easy to build including 'drag & drop templates
Cons of using a DIY website builder:
Free plans often have too many limitations to really be used as a proper working website
Your domain name may still have the web builder's name in it. ie: http://www.carolescakes.wixsite.com
You may have their ads on every page
You may have the web builder's logo on your site
The site may not support third-party apps, plugins or extensions (this limits you customising your site to how you want it to look and function)
Unless you are wanting to pay a similar amount per month to sites like Shopify, you will be limited with your site's storage – ie some cheaper plans still only offer limited storage, so would only be appropriate for say showing off a student portfolio/blog/passion project etc
You may not have the option of moving to a faster server, if your website is loading too slowly
So putting it simply, it comes down to a few things…
Do you have a service-based or e-commerce site?
How simple or complicated is your site likely to be with regard to functionality?
How much time can you afford to spend creating your site?
Are you certain that your content is the best it can be (including copy writing, basic and more involved SEO)?
How confident are you that you have excellent quality, web-ready photographs and the appropriate digital web files to use (ie logos and other branding elements).
If you are adamant that you can build yourself a site from scratch, that is fast loading, easy to navigate, ranks well in Google and looks beautiful, then you probably don't need to be reading this post!
However, if you are not 100% certain you can pull it off and quite frankly, don't have the time, let the Merge Media team do what we do best – by building you an amazing website that will knock your socks off!
We are the experts… we have helped countless poor souls out there who have unfortunately run into trouble with building their own websites and have needed help to get back on track, and quickly!
Our custom built, WordPress websites not only have a versatile and easy to use theme, but they get results. We even offer basic training so you can hit the ground running and make any basic tweaks to your site, yourself (or you can let us take care of this).
https://www.mergemedia.co.nz/wp-content/uploads/2022/06/Pros-Cons-Website-Builders.jpg
1000
1416
Renee Orlop
https://www.mergemedia.co.nz/wp-content/uploads/2019/10/1-new-logo-coloured.png
Renee Orlop
2022-06-08 09:30:33
2022-06-15 14:10:07
The pros and cons of using a free website builder